Le Cherche Midi, a niche brand that provides Eaux de Toilette alongside matching candles and fragrant "cubes" for home fragrancing, translates as "found moments" and its origins echo the welcome respite that the tucked-away Rue du Cherche Midi in the Left Bank of Paris offered to the wanderers of its cosmopolitan alleyways. The desire to capture that serene ambience and translate it into something tangible motivated Nathan Motylinski and Alex Mehfar, who bought the original Parisian brand and re-branded Le Cherche Midi in 2006 into what it is today. (an interesting video on Candles Off Main TV is here).


I humbly admit that I was oblivious to their very existence till very recently. They were a finalist for the 2008 Fifi Awards for Interior Scent and won the 2008 Best Off Main Awards for Most Luxurious Candle Line and Best Gift over $50, so I should have known, shouldn't I? Therefore I got a real kick out of testing their entire portfolio and photographing their glorious candles set. (Depicted is the Les Voyages gift set which retails for $150 and includes six 25+ hour candles, one in each fragrance in the current collection, which I am giving away to one lucky reader, along with a full set of samples for another reader, so comment if you'd like to be included in the drawing!) It's needless to say how rustically and yet elegantly luxurious the reusable wooden box feels and how pleasing to the eye, you can feast yours on it: a picture speaks a thousand words! The Eaux de Toilette are austere, spartan glass bottles similarly encased in wooden packaging, very vintage-wine-style. Personally I'm a sucker for such presentations (and an oenophiliac), so half the game is won simply because of the lovely visuals. But the great thing is the fragrances ~with their numerical "names" and colour coding~ are very nice too! Complex, deep, evocative and multi-dimensional, they can be used as the beautiful soundtrack of your home existence or can be portable forms of intelligence for when you want to take them on a journey on your skin.

From the selection I was pleasantly surprised by the unexpected beauty of No.9, a rich and addictive floriental with a noticeable (and delectable) soft note of lavender on top and a vanillic base, which manages to smell both soothing like a baby cologne and enticing like something meant for adults. It makes for a sexy fragrance to scent your bedsheets before some romping à deux, which I guess is not really antithetical to the cocooning idea; on the contrary! Also wonderful is No.20, a peppery and mossy-leathery alloy which fits with my autumnal mood that yearns for decaying leaves fallen on muddy puddles and the pungent smell of the earth after a roaring thunderstorm. It would make both a supreme masculine/unisex scent (with just a touch of sweetness and lemon zest to balance things out) and a home surrounding aroma, woodies being the par excellence olfactory touch to make even then most mundane little appartment smell like a gentlemen's club study-and-cigars-room out of a James Ivory film. They both lasted exceptionally well too, whiffs caught on skin by morning after an evening application.
Other scents that caught my eye were No.21, a delicious tart, dark berry and evergreens scent underscored by rich spices which brings the atmosphere of a winter fête a little closer in season; and No.57, aimed at capturing "a New York state-of-mind" with its soft powdery aroma with limpid tonalities.


No.1 is a pleasant driftwood and lavender scent that started it all (it was the first product of Le Cherche Midi), which will appeal to those who appreciate Preparation Parfumée by Andrée Putman (minus the peppery start of the latter), while No.14 is the only "fruity" in the line, evoking tangerines just out of the bowl and hologramming in front of you in their happy costumes. A little too simple for my taste, but not sugary which is a plus.
The only one I didn't like at all was No.5, its "clean" ambience said to mimic garden parties and fresh laundry relying heavily on the (personally) dreaded hydromyrcenol note and the hydroponic-freesia soapy accent of several detergent-like florals au courant. It has something of the tonality of Sécretions Magnifiques, ( a scent which reminds me of an operating theater), which unfortunately unfolds right after the interesting top redolent of bitter absinth. It was interesting ~and a little scary~ to note that it had tremendous tenacity too. Ah well, we can't like everything...
CT01 was a limited edition which I believe is out of stock now; its hazy, fluffy sage note is an intriguing touch amidst the vetiver-cool backdrop of an early spring morning.

Le Cherche Midi offers each scent in various forms for the home and the skin: same scent, different technology. They explain:


"Application of fragrance plays a vital role in formulating and
fine-tuning the technical aspects of a fragrance formula. Every product requires
a unique fragrance oil formulation, depending on what the fragrance oil will be
mixed with. For example, we have three different formulas and oils for Le
Cherche Midi No 09 - one for each of our products: eau de toilette,
candle and Fragrance Cube. Even though all the oils smell the same, they are
constructed with different materials and solvents to be able to mix and perform
with other chemicals and compounds. Here, the perfumer's knowledge of chemistry
helps take the creative concept and make practical solutions".
The fragrant cube, for instance, is a new product in which the wooden top soaks up the fragrance to diffuse the scent without spilling or the need for reeds.
The bulk of the fragrances by Le Cherche Midi are created by Cécile Hua, a Marseille-born French perfumer and chemist living in New York, who dreamed of her career in perfumery since she was a child. The first recipient of the Fashion Group International 'Rising Star Award' for the Fragrance Design category in 2003, she went on to create several fine fragrances for big houses. The exceptions in the line are 20, composed by Bertrand Dor, and CT01 by Octavia Jordan.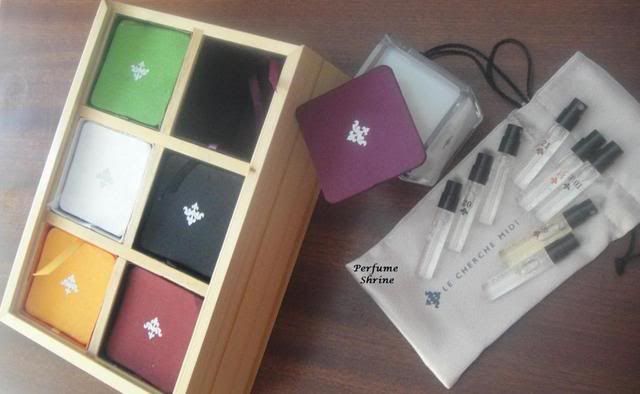 Notes for Le Cherche Midi 01: Sicilian Bergamot, Sage, Lavender, Freesia, Mint, Oakmoss, Driftwood, White Amber, Sand Musk
Notes for Le Cherche Midi 05: Absinthe Flower, Cyclamen, Hyacinth, Fresh Cut Grass, Clean Laundry, White Lilac, Pine, Galbanum, Tonka Beans, White Musk
Notes for Le Cherche Midi 09: Lemon Meringue, Lily of the Valley, Night Blooming Jasmine, Whipped Lavender Crème, Patchouli, Soft Amber, Sandalwood, Vanilla Absolute
Notes for Le Cherche Midi 14: Mandarin Leaves, Blackcurrant, Water Lilies, Rhubarb, Peonies, Rose Buds, Orange Absolute, White Cedar, Musk
Notes for Le Cherche Midi 20: Armoise, Bergamot, Lemon Zest, Black Pepper, Rose Water, Soft Cedarwood, Sandalwood, Dark Amber
Notes for Le Cherche Midi 21: Grapefruit, Blackberry, Golden Saffron, Cardamom, Cinnamon FLower, Carnation, Sandalwood, Leather, Skin Musk
Notes for Le Cherche Midi 57 (a Bergdorf Goodman exclusive): White Tea, Rhubarb Leaves, Pink Laurel, Cherry Blossom, Casablanca Lily, Cyclamen, Vetíver, Amber Crème, White Moss Vanilla.
Notes for Le Cherche Midi CT01 (a collaboration with designer Costello Tagliapietra): Sicilian Bergamot, Sage, Lavender, Freesia, Mint, Oakmoss, Driftwood, White Amber, Sand Musk.

Prices range from 39$ to 50$. You can watch videos with Cécile Hua on the inspiration for the scents on the very well-designed site of Le Cherche Midi where there is also an online boutique and the offer of free swatches.
Enter code SHRINE30 when checking out to gain a 30% discount!!! (non affiliated)

Please enter a comment if you want to be in the drawing for:
1)The luxurious set of candles in its wooden crate pictured (this is heavy stuff, so I'm spoiling you rotten on shipping costs!)
2)A complete set of samples by Le Cherche Midi
Submissions valid till Sunday 1st November midnight and I will draw two random winners shortly thereafter.



All photographs by Elena Vosnaki.
In the interest of disclosure, I was sent the samples as well as the candles for the giveaway directly from the manufacturer.