Amidst the fragrances that Gabrielle Bonheur (Coco) Chanel commisioned,
No.46
stands as something of a largely unknown enigma. When Ernest Beaux had presented samples to Coco for her choosing for her first perfume launch, he had prepared 10 of them in total, numbered from 1 to 5 and from 20 to 24. Among them,
No.5
and
No.22
were the winning contestants, issued on 1921 and 1922 respectively. Fragrances so elevated by the diffusion of their
aldehydic
pitch that they became synonymous with the genre forever after. A little on their left, the refined, gracefully soft aldehydic floral which was released much later; in 1946, at the end of the war.
No.46
recalls most vividly the ambience of the classic
No.5
that cemented the popularity of futuristic, "frozen" bouquets, while remaining surrounded by other obscure scents with digits on them like fairy godmothers:
No.11, No.14, No.20, No.21
and
No.55
...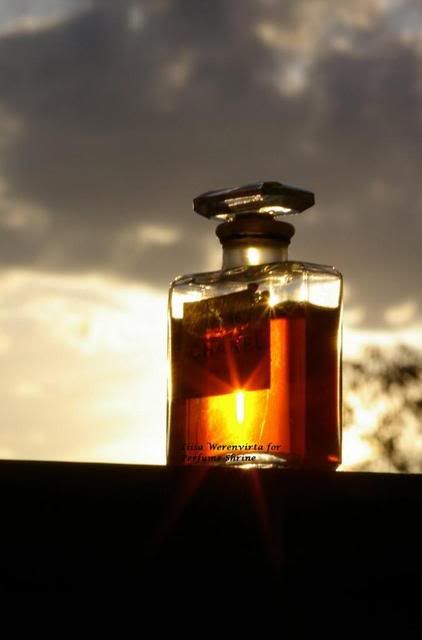 The timing for the release of No.46
is crucial in its critical appraisal and its positioning in fragrance history. Despite the fashion genius of Chanel being "incorruptibly sober and pure",
as per her biographer Edmonde Charles-Roux
, her life presented certain disputable facets that cast a shadow on the image of the "women's liberator from fashion's oppression" and
Evangelist of Style
. (Even today, Audrey Tautou who impersonated her in the 2009 film
Coco avant Chanel
mentioned this early feminist "manifesto" as grounds for accepting the role.) Coco had been self-exiled in Switzerland since 1945, her perfume royalties into exile with her for a decade as well, following the tempestuous reception that accompanied her affair with Hans Gunther von Dincklage; a German officer 13 years her junior ~she was 56 at the time~ and alleged Nazi spy by the nickname "the sparrow", who had arranged for her to remain at the famous Ritz Hotel suite which Coco had made into her wartime abode (and her "real" home for 3 decades, as opposed to her Rue Cambon appartment where she received guests). Additionally, the dubious Operation Modelhut, in which she was implicated, was based on the idea that one of Chanel's friends would pass a letter from her, suggesting secret negotiations furthering the end of war, to Winston Churchill.
"This woman was referred to as a person Churchill knew sufficiently to undertake political negations with him, as an enemy of Russia and as desirous of helping France and Germany whose destinies she believed to be closely linked together."

[according to the Schellenberg interrogation transcripts]
Yet unlike women collaborators who had had their hair shorn in public humiliations or Diana Mitford, Lady Mosley (
Hitler's Angel
) and
Unity (Valkyrie) Mitford
, forever associated with the Third Reich,
Coco Chanel remained untarnished by repercussions
(she was arrested but soon released). No doubt she had taken advantage of her connections, as was her custom: It was a rich boyfriend who helped her open her own clothing boutique in 1913; it was Vera Bate Lombardi who established her name amongst European royalty and through which she met ~her almost husband~ the Duke of Westminster and who possibly served as the connection to Churchill; and it was one of her unnamed powerful liaisons who made if possible for her to escape punishment or humiliation for her past.
The cool reception that the French reserved for her 1956 runway comeback terming it obsolete neverthless was testament to how they hadn't forgotten... Luckily for her, however, it was the Anglosaxons (in the guise of Americans mostly) who loved her little black dresses (they still do!) and thus helped her progressively obliterate the bad memories.
It was during those troubled years of WWII that Chanel had tried to wrest control of
her fragrances
from the Jewish manufacturers ~the Wertheimer family who own them to this day and also controlled Bourjois~ exploiting the pro-Aryan laws to her benefit. (The Wertheimers owned 70% of the house, Theodile Bader of Galleries Lafayette who introduced Coco to them was rewarded with 20% and Chanel herself only held 10%). As a result, the perfumes conceived in the time frame surrounding WWII are rumoured to generally have a striking resemblance to her already successful 20s and 30s creations, probably in an attempt to reposition herself in the fragrance producing pantheon as an independent entity. Little is known of them, but the time framing bears significance as in 1954 the Wetheimers came to an agreement with Chanel for her to reliquinsh all control to them in exchange for having her personal expenses taken care of for life (It took 17 years).
The way that a little
No.46
came into my hands is episodic and worthy of recounting à la Lafontaine: Once upon a time, (then) Florentine-bound
Liisa Wennervirta
had come across and purchased a full stoppered bottle of said perfume on an auction site, about which she asked my opinion and info after the fact. Certain details had been negatively indicative to its authenticity (or so I thought at the time) and the cynical/distrustful in me sighed a bit inwardly (I repeat this was
after
the fact) because I really like Liisa, had followed
the scandals by Polkadot Patty
a couple of years ago and would really flinch if she had been scammed. On the other hand, if it was a fake I would be supremely curious to see how someone would venture into even attempting it and would admire his/her serious
cojones
despite my disgust at the practice. Liisa sent me some to try out and it transpired that it was against all odds seriously delightful juice!
As
Liisa
herself said: "It's not that grandma-style rose like Penhaligon's
Elizabethan Rose
, nor that sweet, slightly sickening rose of
Nahema
or
Mahora
in extrait version, it's warm, spicy, carnation-y and slightly reminds me of
Fleur de Feu
but after a while it mellows to sweet musky calmness. Something that I badly miss among
Les Exclusifs
."
The opening of
Chanel No.46
boldly reveals the penchant of the brand into producing abstractions of an arresting grace. It is redolent of the ambience of
No.5
quite vividly, to the point that a lover of one might instantly recognise sub-themes in the structure of the other, like a student of baroque fugues recognising the intermingling motifs across several bars of music. At the time however
No.5
hadn't acquired the cult status it has today being instantly recognisable across continents. The basic chord which echoes throughout
No.46
seems to be the rose, ylang-ylang, carnation/lily (a hint of spice) and musks (two parts of this harmony form the main
basso continuo
of
No.5,
anyway
,
especially in vintage parfum form and the defunct Eau de Cologne version). This is underscored by a soapy-mossy feeling that recalls retro grooming products to my memory. The musks are especially rich and radiant, emitting warmth and a subtle come-hither.
In its way, Chanel
No.46
is firmly placed in the tradition of its times too, while echoing an established success: Smelling it alongside
L'Air du Temps
(1948) (its carnation tinge plus aldehydic-salicylate facets), the more orientalised
Fath de Fath
(the original 1953 version, not the 1993 reformulation) with its intensely musky base, or the delicate bouquet of
Coeur Joie by Nina Ricci
(1946), one is not hard-pressed to understand the greater need for fragrances that presented a refined and genteel ambience of ladies who eased back into their feminine endeavours after the more androgynous occupations of the war days. All without eschewing their animal instincts...
Notes for Chanel No.46:
Top: bergamot, orange and neroli
Heart: rose, lily of the valey, ylang-ylang and jasmine
Base: vetiver, orris, sandalwood, coumarine, vanilla and musk

Needless to say, it's a very rare fragrance and your only chance for a bottle would be buying off a collector.
Related reading on Perfume Shrine: Chanel reviews & news, Vintage scents
Pic of No.46 by Liisa Werenvita used with permission by Perfume Shrine. Photo of Gabrielle Chanel in 1909 scanned from Edmonde Charles Roux book 2004, p.62. Photo of Diana and Unity Mitford saluting the Nazi way via wikimedia commons.