The Mona di Orio line is something like the Meet the Parents' (the Fockers that is) "inner circle of trust": You have to really give your whole before you get past the distrurbing opening to see what lies beneath. What you do past that point is up to you, but the journey there is full of apocalyptic awe and a few surprises.


Ravaged ~on an almost personal level~ by Turania, who apparently paid so little attention that they even misunderstood the very name (Carnation being the one which "blooms not in a flower bed but on a woman's cheeck"), one would have thought that the perfume's and the perfumer's fate seemed sealed to belong to the 9th circle of Dante's Inferno. Perhaps this is an eminent case of the adage "there's no such thing as bad publicity" and "say whatever you want about me as long as you spell my name right" because Mona di Orio not only sufaced victorious ~after a distribution problem~ and is referenced in a gazillion of publications, but she is also producing new perfumes and has participated to great aplomb in the recent Firenze Fragranza No.7 exhibition (Another independent perfumer, Andy Tauer was very appreciative and vocal about it, which is so graceful and so him).

Part of the initial triptych including Lux and Nuit Noire from 2006, Carnation is meant to evoke a tender embrace after a day spent in the sun and although it's a very individual scent and one that probably gets some getting used to (and no doubt some of you won't get used to it no matter what), I find myself most fascinated by its almost leathery impression, despite the description of it being a floriental. It is a par excellence musky fragrance on far drydown, both "dirty" and delicate, more than a little carnal, with mildly spicy accents on a bed of cream (provided by the floral notes). Mona dedicated it to Colette, a woman very attuned to cosmetic and fragrant preparations as well as the sensual world (Her Flower and Fruits book is a good companion).
Carnation's beauty lies in its "flaws": The initial spicy accent (resulting from the giroflée, the plant that produces cloves) is just a tad medicinal, which combined with the woodier elements and the kid's-glue-like complimentary styrax produces an arresting impression of a dentist's office nurse with the wickedly smiling face of Béatrice Dalle, her gap between front teeth an ironic exclamation mark on the artistry of said doctor.
The lasting power is very good, sillage is pleasantly there but non intruding and it should fit both sexes and most seasons (hold August).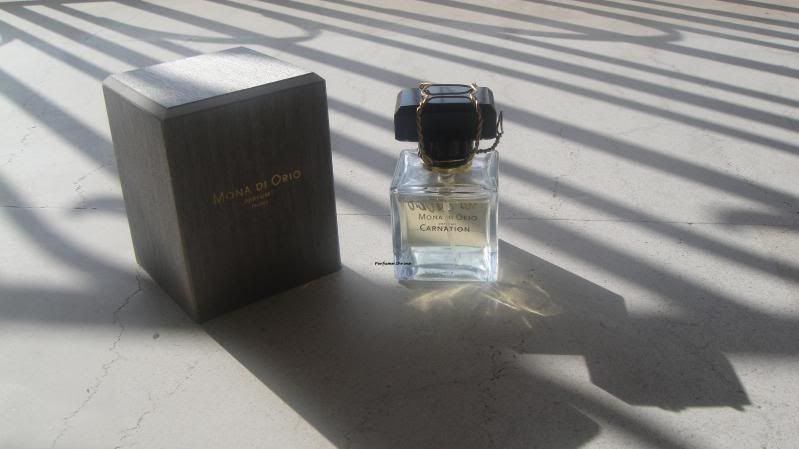 Although Mona sat with Edmond Roudnitska, it is true that her style does not necessarily reflect the same aesthetic choices or sparseness of style. She even proclaims herself that the siren of Serge Lutens lured her into a different path of orientalia that diverted from the classic French mold, on which Roudnitska has put his final seal. Her Italian/Spanish heritage might have something to do with it. People who have met her in the flesh comment on her sparkling personality and struggling English, so it might not be so easy to translate her Damascene metamorphosis. To my mind, her imaginative Lux and of course Carnation present opposing impressions of the same coin: luminosity and crepuscular shadows, one after the other in quick succession and prove that a little exploring of her creations is highly recommended to all.

Notes for Mona di Orio Carnation:
Top: Bergamot, girofle, geranium Bourbon
Heart: ylang-ylang, violet, jasmine, precious woods
Base: musk, amber, styrax



Carnation is presented in the trademark cork-top faceted flacon of Mona di Orio's line in Eau de Parfum and is available for purchase in the US at Spafumerie: 2nd Ave. and 48th st, NYC. Tel: 212 644-9525 Email: thespa@spafumerie2.com Fax: 212 644-9529
In Europe Les Senteurs in London carries the fragrance ~as of this minute~ both in store and online, as does Aus Liebe Zum Duft.

Pics of autographed Mona di Orio Carnation bottle ©by Elena Vosnaki
Beatrice Dalle pic via nathalie-agency.blogspot.com