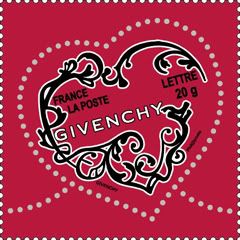 From August onwards there will be a frenzy of new launches according to Woman's Wear Daily to titilate the consumer into trying new versions of beloved fragrances or re-issues of older vintage fragrances of a bygone era or yet still new and supposedly original compositions.
The proof is in the pudding, but for the time being these are the launches that have got my heart going in quicker palpitations.

THE RE-ISSUES

The re-issues of legendary Givenchy perfumes, Les Mythiques(=the mythical ones): If you recall, Perfume Shrine had the scoop on the scheduled re-issues a long time ago .

These three are scheduled for October:
Givenchy Eau de Vetyver (at $65 for 100ml).
Givenchy Monsieur , the personal favourite of mr.Hubert de Givenchy, kept into production on his behalf and now re-issued ($65 for 100 ml).
and Givenchy Xeryus harking back from the early 80s ($65 for 100 ml).

All of these will be available from Nordstorm in US in limited distribution (16 doors).
No other confirmation on re-issues (especially the much anticipated L'interdit) thus far.


Rober Piguet is also hot on the re-issue front, after his much beloved Baghari re-issue of the aldehydic classic which although different than the vintage managed to smell enticing, elegant and poised. Read a full review here.
For October the house plans on launching re-issues of Visa, a women's fragrance available exclusively at Le Bon Marchι in Paris and Harvey Nichols in London priced at $190 for 30ml/1oz. parfum, $65 for 50ml1.7oz. eau de parfum and $95 for 100ml/3.4oz. eau de parfum. The vintage issued in 1945 was an animalic fragrance of potency that was anchored by an orientalised base, so the anticipation on how the new one will live up is palpable. Givaudan's Aurelien Guichard has adapted initial perfumer Germaine Cellier's original for today's market and it includes the following notes: White Vineyard Peach, Pear, Violet leaves, Italian Bergamot, Yellow Mandarin, Ylang-ylang, Rose, Orange flower absolutes, Patchouli, Sandalwood, Vetiver, Moss, Vanilla, Benzoin and Leathery Notes (according to Basenotes)
Also click here for official info.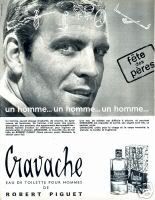 And the men's Cravache available in specialty store distribution in about 150 doors internationally at $55 for 50ml/1.7oz. and $85 for 100ml/3.4oz. eau de toilette. The original, issued in 1963, was labeled a spicy floral chypre and was characteristic of the era. It remains to be seen how it will be accepted by today's discerning customers. It contains notes of Mandarin, Lemon, Petitgrain, Clary sage, Lavender, Nutmeg, Vetiver and Patchouli. The modernised version will be available as 50ml and 100ml Eau de Toilette, 100ml After Shave and a 200ml Dual-purpose Shave Cream/Body Wash (according to Basenotes). Also click here for official info.


NEW VARIATIONS OF POPULAR FRAGRANCES

It has been very common these past year to launch the so-called "flankers" ~new fragrances that take the name and/or image of a previous successful perfume and give it a twist (sometimes rendering the smell unrecognisable) to appeal to the consumer who loves the old version but craves something new as well. Usually these flankers do not succeed in delivering, however there are some exceptions and with that in mind I have these two from Guerlain on my must-try list:

Guerlain Shalimar Black Mystery (a limited edition). It will be available in 1400 doors (Saks, Sephora, Neiman Marcus, Bloomingdale's, Bergdorf's, Nordstrom, Macy's and Dillard's) at $110 for 75ml of eau de parfum. Scheduled to launch in October.

Guerlain My Insolence. It will be available in 1400 doors (Saks Fifth Avenue, Sephora, Neiman Marcus, Bloomingdale's, Bergdorf Goodman, Nordstrom, Macy's and Dillard's) at $45 for 30ml/1oz, $62 for 50ml/1.7oz, and $89 for 100ml/3.4oz of eau de toilette. Scheduled to launch in September.

Another flanker that sounds promising is Agent Provocateur's Strip (taking the name from the naughtily illustrated candles they had issued along with their eponymous fragrance some years ago). It will be available in Bloomingdales and on their online site at $65 for 50ml/1.7 oz of eau de parfum.

And last but not least, Chanel is revamping the No.5 line with No. 5 Eau Premiθre , which will be available at department and specialty stores and on chanel.com at $125 for 150ml/5 oz. To be launched in October.
Not super excited for something in such a big bottle, but worth trying something new in the formidable stable of No.5. After all the Sensual Elixir in this fragrance proved to be lovely. Let's see...

And the NEW FRAGRANCES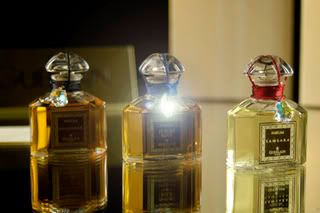 From Guerlain, Spiritueuse Double Vanille which will be available in four doors (Neiman Marcus San Francisco, Bergdorf's, Epcot in Orlando and The Breakers Hotel in West Palm Beach) at $200 for 75 ml. Sounds like an exclusive to me and those always build some anticipation. To be out in November.

Jo Malone White Jasmine & Mint Cologne . It will be available at Jo Malone Shops and jomalone.com, specialty stores (Bergdorf's, selected Neiman Marcus and Saks stores)and also at Holt Renfrew in Canada exclusively. It will retail at $50 for 30ml/1 oz or $95 for 100ml/3.4 oz and will launch in October.

Bulgari is launching Eau de toilette Rosee in September. It will be first available exclusively in Macy's, followed by Bloomingdale's, Bergdorf's, Lord & Taylor, Saks, Neiman Marcus, Sephora and Nordstrom. It will retail at $69 for 50ml/1.7 oz. or $98 for 100ml/3.4 oz

And Creed is introducing Amalfi flowers in October, available exclusively at 19 Saks doors at $270 for 50ml/1.7oz. or $450 for 8.4oz in an eau de parfum bottle signed and numbered by Olivier Creed.


I hope you have taken notes as I did and are thinking about what your sniff-list will be this coming autumn. Hopefully Perfume Shrine will be around to offer a considered viewpoint to these new launches and help you along in your choices.


In the meantime, expect to see an interesting interview with an acclaimed perfumer whose perfumes will be the talk of the town soon and a review of a new magnificent scent by a nose that has been already reviewed here at Perfume Shrine.
Stay tuned!!
Pic of Givenchy stamp for 2007 Valentine's day from french post.
Pics of Cravache ad and Guerlain crystal bottles come from Ebay.