One of the most nostalgic perfume commercials I always remember with a pang of melancholy in my heart is the one for Cacharel's fragrance
Loulou
from 1988. Inspired as it was (along with the perfume itself) by Louise Brooks and her ethereal, yet also devilish character in Pabst's
Pandora's Box
and the cryptic message of a knowing wink beneath a heavy dark fringe it produced a soft spot for every aspiring
coquette
aged very, very young-ish.
The scent caressed every nook and cranny
with its voluptuous yet somehow innocent, powdery sweet aura: the seduction of a creature this side of Lilith. And it didn't help that the haunting melody echoed in my ears for years as one of the most touching elegies I have heard to the colour blue in all its literal and figurative permutations...
My joy on finding it (even in its Italian version), after all these years thanks to the wonders of technology, has revealed that its pearly veneer hasn't lost its lustre in my mind and it still produces a sigh of delightful and wistful reminiscence in me, like a dog who is sighing, her paws tucked in and her ears down at the completion of a tender, sad patting as if to part forever.
And here is the divine soundtrack to the above commercial in its full glory: "Pavane, Opus 50" in F-sharp minor by Gabriel Fauré, set to images of impressionistic paintings by Monet.
Do you have a perfume that produces such synaesthetic responses in you?
I'd be interested to hear.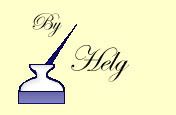 Loulou clip originally uploaded by Shescom on Youtube. Pavane clip uploaded by andrewgrummanJC on Youtube.