Some wonderful things in this life are well-known: Veuve Cliquot champagne, the Nutcracker suite, Mercedes Benz S-class and Gregory Peck. The again there are those little things that while not essentially secretive they float with little collective wow as much as they trully deserve it.
The Non Blonde
(from New York) and yours truly decided to sit down and reveal some of the "secret" things that makes us tick. Things of a local but also international colour to take you away from your everyday existence into the cosmos of a friend city-trekker and which we hope will inspire you to seek them out this autumn.
Foodstuff and aromatic delights:
Mastic
or
lentisque
, the natural resin of the mastic tree, is one of the local products which I feel few people outside the Mediterranean know about and that's such a shame. Because mastic is medicinally beneficial to so many ailments (soothes the stomach, strengthens the gums, whitens the teeth, refreshes the breath, helps with catarahh), it is also an excellent... aphrodisiac but most importantly its aroma is delicious, unusual and very pliable to so many uses in food, drink and fragrance (
Infusion d'Iris
by Prada is said to borrow its aromatic note).
Mastiha Shop
is the brandname of Mediterra SA company founded by the Chios (the Greek island) Mastic Growers Association. Whenever a foreigner comes to my city I always take them to the
Mastiha Shops
: a paradise for everything around mastic!
The Mastiha site
is excellent and you can spend lots of time seeing the products, the shops and reading about how they are collaborating with other Eastern Mediterranean companies such as Al Doucan, Junan Natural Lebanais, Senteurs d'Orient Sarl and Haki Bekir SA. The best part is probably the Recollections section on which there are dots on the map of the whole Mediterranean with customs around mastic for every one on the map (on the Folklore sub-section), tales about travelers and historical references aplenty. Get their gum with rose essence if you can: yum!
Books and films
Jeux interdits
(forbidden games), is a novel by François Boyer. The synopsis has a girl of 5 orphaned in an air raid while fleeing a French city with her parents during WWII. She is befriended by a 10 year old peasant boy when cut off from the other refugees and is taken in for a few weeks by his family. The children quickly become friends in the purest and most tender love story of them all in their attempt to assimilate the deaths they both face and the religious rituals surrounding those deaths through the construction of a cemetery for all sorts of animals. However child-like and adult activity often are at cross-purposes till the climactic finale.
The novel got adapted into a 1952 French language film directed by René Clément starring Georges Poujouly, Brigitte Fossey, and Amédée. For once a film respected the book and became according to filmsdefrance.com: "almost unquestionably the most compelling and intensely poignant drama featuring young children ever filmed" . If you have small children or have not forgotten the sensitivity of your childhood, it is highly,
highly
recommended. Take a box of Kleenex with you too, you will need them. Available through the Criterion Collection. Watch
this little montage
.

And if you're embracing your cynical, adult side, don't forget the Italian spaghetti western classic from one of my favourite directors of all time, maestro Sergio Leone.
Here is Clint Eastwood, Lee Van Cleef and Eli Wallach in one of the most poignant treatises on war & the individual and the best showdown ever (click to watch): Il Buono, il brutto, il cattivo (The Good, the Bad and the Ugly) from 1966 set to music by Ennio Morricone. "There are two kinds of people in this world, my friend: those with loaded guns and those who dig. You dig!" A masterpiece.

Homage to a tortured soul:
Guillame Depardieu, son of France's greatest living acting legend, died on Monday out of complications of pneumonia according to Google. Gifted in acting himself, with the ill fate of growing up feeling side-tracked by his father's fame, and having to go through the loss of a leg due to a motorcycle accident a few years ago, he had a rough life that ended unjustly. He was 37.
He will always remain in mind fair, young and passionate as he was when he appeared alongside his father in Tous Les Matins du Monde (all the mornings of the world), a 1991 French film by Alain Corneau about the baroque music of Sainte Colombe and Jean Baptiste Lully which I had referenced when talking about O de Lancome and a big-fat-shinning gem of its very own. This is for you, Guillame. Godspeed...

Jewellery:
Another passion of mine, I'm afraid. There are so many things to appreciate in a well-crafted jewel beyond its monetary aspect: the craftmanship, the cultural inspirations behind it, innovative designers making portable art. It makes my day to look at beautiful and inspired jewels and my collection is growing thanks to careful selection and generous gifts.

I tend to prefer vintage pieces with rose-cut diamonds (those grey irregularly-cut stones that resemble hazelnut shreds). Fanourakis is a Greek goldsmith fronted by an admirable woman, Lina Fanourakis, who designs the most ecclectic mix of portable sculpture: small flies become dainty earrings, a corset is shaped into a bracelet, drops of liquid fall off the length of a brooch. Take a look here and if you pass through Ermou St (Hermes street) in Athens, turn on the left before Kapnikarea church so as not to miss their boutique.

Then again there is Rinaldo Gavello: an Italian designer married to a Greek woman and almost a Greek himself now...With boutiques in the glamorous Athens center, Thessaloniki and in always popular Mykonos, he designs the rock-chic pieces with skulls out of the tiniest diamonds and bright enamel that delight my Metallica-loving soul. Take a look at the new Josephine collier, inspired by black gazelle Josephine Baker and prepare to be awed! (click the link to see pic)

Perfume:
One of the fragrances that I have never heard anyone in the perfume communities know is an Italian Eau de Toilette by the French-sounding Jean Louis Gady brandname, christened Musk Oil (it's anyone's guess why they called it thus when it's in fact a spray alcoholic fragrance!) It's my favourite "extra" to include in international packages: there is no one I have sent this to who hasn't spontaneously commented that it is very pleasant and wearable. Warm, sweet but not intensely so, with hints of rose and vanilla, unisex and a proper "perfumey" fragrance rather than a clean musk, it garners compliments from everyone. It's a mystery why it's not widely available.

Another little-sung hero is Sonia Rykiel Woman, not for Men! from one of the more chic and favourite designers: musky, leathery, powdery and with an abstract touch of cosy warmth it's a wonderful, wonderful perfume that is unique, never nauseatingly sweet or heavy and a subtle come-hither. Nota bene, however: all this describes the Eau de Parfum in the bottle with the bronze studs on the cap and the purple accent lettering, not the pink one with the silver studs (the Eau de toilette, which is yet another trite fruity floral).

Demeter's Rain is not exactly what one would call "perfume" and indeed I am not advocating you wear it as a personal fragrance. It's more of a mind-altering mood in a bottle: it is exactly the smell of those baby humidifiers-ionisers which shoot negative ions in the atmosphere to boost energy levels and clear the air. It smells as fresh as the first raindrops from a blue cloud in the autumn sky.

Body indulgences:

The shower gel which I most enjoy during the late summer and autumn months is none other than Felce Azzura (means "blue fern" in Italian) by Paglieri. There is some pungent aromatic and slightly bitter essence like crushed dried herbs gathered on a Greek hill along with a lingering powdery quality about it that never stops having me swooning (a dangerous thing in the shower!). Refreshingly cool in late summer's humidity and unlike any usual citrusy or minty bath product it has an autumnal feel that is a perfect fit for the current season in particular. It also comes as a body powder with the same heavenly smell. And it's relatively inexpensive, making it the perfect everyday indulgence. Once upon a time, as attested by the ad designed by Moltrasio in the 1950's which is clearly inspired by my look-alike, there was also a hair brilliantine. Kill me now!

Hair guilty secret:
I am über-loyal to Elnette hairspray for dry hair ever since I remember using something to hold my stray strands, ever since it was non cool and not fronted by Penelope Cruz and Claudia Shiffer in those nifty ads. Seeing my mother and grandmother using it obvsiouly had a deep and contradictory impact: I wanted to break out of the mold and try "younger" hair stuff, quirky, punky, whatnot. After hundreds of flings with lesser mortals I always return to this one: it brushes off in an instant, does the job well without sticking the hair into barbed-wire and has a nostalgic faint smell that doesn't bother my perfume wearing.

Makeup unsung hero:
Guerlain has my hard-earned Euros on many things; one of the constants however, apart from perfume, is mysteriously enough a highlighter-cum-concealer: Issima Precious Light. A click-pen with a little brush at the edge that delivers the creamiest, most becoming little shot of light for under the eyes, over the brows, at the edges of nose and lips, to give a gentle luminosity to the face to lift it through the darker days of the cooler season. More creamy than the Yves Saint Laurent analogous product and less sticky or thick than the comparable Dior, it is the perfect consistency to blend without tugging. I use Beige Naturel 020 and it doesn't need anything else on top (the sales assistant who insisted my light skin needed the Beige Clair 010 hadn't realised that too white-ish gains a grey-ish pallor over any trace of blue under the eyes...)

Actors to watch now:
This guy has been steadily gaining a small but dedicated fan club, mainly thanks to his inclusion in the Tudors. I fist spotted him in The Count of Monte Cristo. I don't know why they don't employ him in almost everything!
Opposite physionomy to the virile one above, fabulous acting chops, this one is another gem not to miss: I don't know why they don't employ him in almost everything either! Best thing of all: you never hear about their private lives: wise boys...

Music to listen to this autumn:
Manos Hadjidakis is no unknown in Greek music. He shares demi-God status. Yet not many people abroad who only know Greek music from Zorba the Greek instantly recognise him as immediately as the latter's composer (equally talented Mikis Theodorakis). Here is a clip from Gioconda's Smile, his 1965 instrumental album inspired by his stay in...New York City. Available at Amazon.



I'd love to hear from you about your favorite hidden gems (regional or of a wider scope). Share them in the comments and please don't forget to check out The Non Blonde's for another take.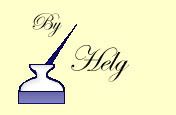 Art photo on top by Charettevia. Felce Azzura ad via trocadero.com. Jeux Interdits poster via Wikimedia. Clint Eastwood pic from the Clint Eastwood Archive.
.