The story of Eve, her defiance on munching the forbidden apple and the symbolism of poisonous apples standing as wisdom, knowledge and sin in fairy tales have inspired perfume advertising for decades. Today I present you with some of the most beautiful examples.
First there was Nina Ricci and her
Fille d'Eve
(daughter of Eve) from 1952.
opti
Christian Dior exploited the symbolism cunningly from the very start for their
Poison
series of scents, starting with the very first ~and probably the one with the almost poisonous vapors of a good, true, proper tuberose (me likey!) in mind:
In
Hypnotic Poison
, the metamodern incarnation of the poisonous apple is fetishly-dressed in red rubberized material, completely in tune with a new audience and the model sports the novel makeup choices to match:
Pure Poison
kept the shape of the bottle, but turning it into opalescent white it created a jarring contrast with the jet-black jewels, dress and hair of the model and the Alien-esque movements of the unidentifiable "creature" with which she competes with for:
Recently, after acquiring Monica Bellucci as their spokesmodel, the perfect tantalizing Eve, Dior reprinted their
Hypnotic Poison
ads with the symbolisms evidently in place, reptilians and all:
In the meantime, Joop had launched
All about Eve
in a frosted apple bottle in the 90s. Symbolism had gone away from the carnal and into the wholesome by then (in tandem with the concerns for lighter smells and "cleaner" living) and the scent was limpid, promoted with exposure of bare clean flesh.
Cacharel decided to feature Eve and the apple in a regression into the prelapsarian paradise of a garden pre-Greenhouse-effect where there is no hint of doom or decay; it was 1994 and the fragrance was
Eden
:
Lolita Lempicka
is another fragrance who took the symbolism of the apple beyond its fresh, wholesome appeal into the realm of the unknown and the magical. Luckily, the scent resplendid in its bittersweet licorice gourmand overtones corresponds well to the ingenious promotion:
And finally Nina Ricci regresses into their archives to resurrect the apple, but featuring it in a candy-sweet gourmand with a previous fragrance's name,
Nina.
Hard to envision as either poisonous or sinful apart from its calorific load: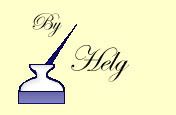 Clips originally uploaded on Youtube. Pics from perfumedistributor.com, parfum de pub, forget-flowers.co.uk and Elle publication.