February has landed and with it all the corny yet weirdly enticing thoughts of love potions and amorous gifts. So in the interests of brightening up your days and helping you dream a bit,
Perfume Shrine will devote posts up till Valentine's Day to scents of love
.
Many fragrances, especially feminine ones, include "love" or "amour" in their name. Whether they represent the romantic idea to your nose is another matter. For what is worth, here are some.
Kenzo Amour
is one of the cuddliest offerings recently and the beautiful, design lacquer style bottles in white, fuschia or orange are enough to make you want to own one. The notes are: top of cherry blossom, rice and white tea; heart of frangipani and heliotrope, and base of thanaka wood, vanilla and musk. The whole smells slightly powdery and fluffingly vanillic with the merest hint of oriental
sakura
(cherry blossom).
It also ran a beautifully shot, romantic commercial in Bali, which you can watch here:
(uploaded by Julie73b)
This year they have a new variation, a limited edition with graphic designs on the bottle called
"Indian Holi"
(click to see).
The most wonderful boxed presentation with lovely fragrances inside is by L'artisan Parfumeur:
Les épices de la passion
trio of 15ml/05.oz bottles of eau de toilette.
Safran Troublant
(saffron, vanilla, sandalwood and red rose),
Piment Brulant
(hot pepper, poppy, chocolate and clove), and
Poivre Piquant
(white pepper, creamy milk, liquorice and honey)
Available from Lucky Scent for 75$ and lovely to look at it is also a collection versatile enough to be worn in different occassions and various weather conditions (the
Poivre
is very nice in the heat)
Other companies also explored the love theme with varying results.
There is
Amor Amor by Cacharel
in its deep red bottle, bursting with fruity sweetness; if you are after that sort of thing, that is. It is pretty popular. Notes include: pink grapefruit, blood orange, sweet mandarin and black currant, apricot, red rose, jasmine melati flower, lily of the valley, vanilla. In 2006 they came out with their first flanker,
Elixir Passion
with a thorned rose depicted in white on the bottle and a rather more orientalised base. This year they have adorned the bottle with tiny silver diamanté in the shape of hearts:kitschy and cute.
Much obligingly they have also issued a men's version,
Amor Homme
(which
isn't half bad
! In fact I prefer it myself): a traditional introductory fougere.
Estée Lauder launched a variation on
Beautiful
last year, called
Beautiful Love
which plays into the lushness of tuberose with good results, as
you can read here
.
Guerlain have gone the Barbie way with their
Colors of Love
fragrance, "a powdery floral, the juice opens on notes of grapefruit, kiwi, passion fruit and violet, leading to a heart of rose, mimosa, cassia flower and iris. The base is a blend of musk and ambrette seed". Barring the promising ambrette seed there, I have failed to see the appeal of this one which is an uncharacteristic to Guerlain as is George Lezenby to the James Bond canon. If you want to get a Guerlain to celebrate Valentine's Day, get your man some <
L'instant pour Homme:
purring sex....
Or if the recipent is a lucky female, the iconic
Shalimar ,
"the scent of temptation" inspired by the most romantic tale of them all, has a glorious
Black Mystery
version out: a limited edition in a collector's bottle in deepest black.
Last but not least,
Ayala Moriel
, the natural perfumer from Vancourer, has a great idea for a shared loving potion:
Immortelle L'Amour
perfume and scented tea that you can both sip to bring on the amorous mood...
Immortelle L'Amour
is a lovely fragrance that merits its own review soon, but suffice to say that it plays on maple-like nuances of immortelle absolute, paired with delectable rooibos touches and vanilla capturing the aroma of
Tire d'Erable
.
There is also a special offer for the upcoming days taken from her site:
Immortelle l'Amour Parfum + Tea Gift Set

Now on special discount - when you buy both, receive a $20 discount Original price $140 - now priced at only $120! - Essentially, you are getting the previous price for the parfum ($100) and tea ($20).
There are of course more traditionally "valentine's day" offerings, like
Roses & Chcolate
, although I haven't tried that one and can't vouch for how it smells. What is more interesting though is that she also offers jewelry with solid perfume captured inside, such as poison rings or pendants that make for a wonderful adornment, to be dabbed on when the crucial moment arises...
In the meantime and if you have a couple of minutes to click away, you can do a
psychology test about your level of love
on this site here
.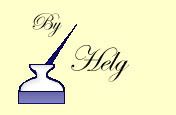 Pics from ebay, parfumdepub, flickr, scandelines.de, luckyscent and ayalamoriel.com