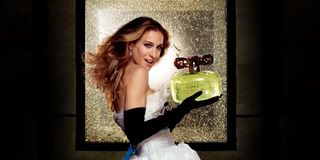 Sarah Jessica Parker impressed us with her
Lovely
musky foray into fragrance as we didn't really expect a celebrity perfume to be of any considerable substance. But this was a serious perfume lover we were talking about (
click here
for her signature perfume mix and
here, for an interview with Chandler Burr
)and she passed the test with flying colours.
Now comes
Covet, her new scent for women
and the commercial was conceived by genius director Jean-Paul Goude, responsible for the Chanel
Egoiste commercial
that made it to the advertising Hall of Fame.
Set to Verdi's
Forza del Destino
with adorably playful french by smokey-eyed mrs. Parker as she talks to
monsieur le gendarme
and with red-soled Louboutin shoes that peek unmistakably under her Lacroix
couture
dress as she kicks to the count of the orchestra on the window of the posh boutique, this is a Paris-shot commercial that imprints itself on our mind with its strange atavistic motto "I had to have it!". Because it is so much coveted, you see.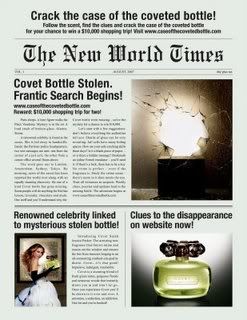 And now Coty, the brand which is issuing
Covet
the fragrance for Sarah Jessica Parker have devised
a new sleuthing game
on who masterminded the theft of the bottle
on their new site
,
Case of the Coveted Bottle
(click on the link). The site offers free samples and a contest running till October 15th for weekly prizes. There will be extra clues given
on this My Space link
, where you can additionally download screensavers and wallpapers for your computer.
The Grand Prize winner will receive $10.000 and a trip for two to NYC to attend Lucky Magazine's Lucky Shops 2007, but also a Covet gift bag encompassing a jewelry box and a deluxe mini. One First Prize winner will win a flat panel TV costing $1.200 and the Covet gift bag with the items described above. Last but not least 30 second prize winners will be receiving the Covet gift bag.
Additionally, the first person to solve one of ten weekly challenges will receive a green apple iPod Shuffle along with the Covet gift bag and the challenges will renew themselves each week. Finally two lucky winners will receive an apple iPhone and a Covet gift bag for the Bonus Challenges.
Sounds impressive! In any case good luck, those games can be addictive! I could spend hours being all
monsieur Hercules Poirot
on that site.
On the other hand if you want to laugh a bit with the ingenious uses of the bottle, please visit
this link
on
Smelly Blog
.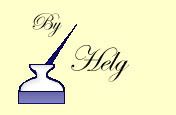 Clip uploaded by Leofour4, pics from Myspace/covetsarahjessicaparker