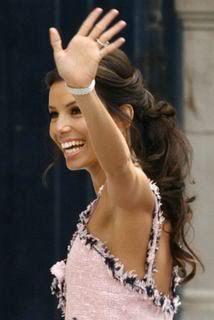 Perfume Shrine in its toddler steps started as a modest guide of what celebrity prefers which scent. It was early days and compiling a list had been going on for years. Although it was meant as fun, it was also a great marketing research tool, since audiences are usually mesmerised by what the rich and famous opt for. The list got expanded into a website, the website into a perfume blog and the rest is history...for what it's worth.

So seeing that Eva Longoria, 32, the sexy brunette Latina of the Desperate Housewives Tv show stardom got married in Paris the other day to her sweetheart NBA champion Tony Parker, the question of what she opted for the big day rose once again.
It's not unusual for a bride to be to ponder on which scent to pick for the grand day among other concerns. After all, smell has such a way of imprinting itself in out mind like the fingerprint of a guilty party, that it is only natural we want the guilt to be as pleasurable as possible.

The sartorial choice was a double affair: since french law requires a civil ceremony by the french mayor before the religious one, the bride opted for two dresses on the two seperate occasions ~ a Chanel mini dress in pink and a white short dress.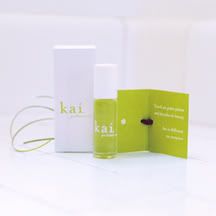 According to my sources she is a white floral girl who loves her Kai and her Fleurs d'oranger and indeed I could picture her in those admirably, suiting her sexy persona and her lush features with their fresh yet soft and inviting smell.
She is also reputedly tied to the Desperate Wives perfume project, Forbidden Fruit, along with the other actresses who appear on the show (Terri Hatcher, Marcia Cross, Felicity hoffman, and Nicolette Sheridan), but somehow this strikes me as highly improbable. Think about it: do you share your fragrance with just about all the people you work with? Even if they are completely different types of people? Even if that perfume is free and inexhaustible because... hey, your pretty face is fronting it?
Sounds like marketing to me...And not that successful either.
Forbidden Fruit is reportedly not as potently fruity as surmised by the name, but rather veers into fruity floriental nuances containing notes of Rome apples, orange blossom, peach, wisteria, jasmine, ylang-ylang, passion lily, cedarwood, sandalwood, vanilla and tonka bean. The notes do denote an intense floral presence.

However, like I said, I envision her in something more unique and in tune with her personality even if her lunch at Coco Chanel 's own old private studio which is quite a rare occassion not too many have participated in before would point to a Chanel perfume freebie: maybe one of the new Les Exclusifs?
(full reviews and an opinion article click here: Eau de Cologne, no.18 , 31 Rue Cambon review, Coromandel, Bel Respiro and 28 la Pausa).

I'd love to have been able to catch a whiff of what she chose in any case. Would you? And what do you imagine would be the perfect choice for her Parisian wedding? Or for any wedding, come to think of it?


Pic of Eva Longoria courtesy of Thesuperficial.com
Kai bottle pic courtesy of sporkfashion.com