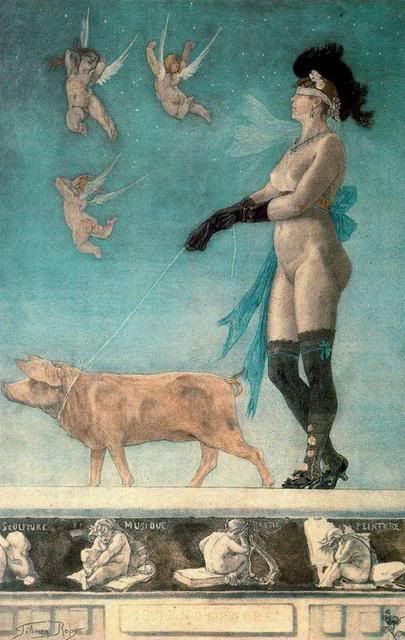 By guest writer Denyse Beaulieu
"The glove (…) had retained a strong odour, this distinctive musky odour which the girl's favourite perfume, heliotrope, sweetened with a touch of vanilla; (…) violently aroused by this blend of flower and flesh, he was overcome, with the glove on his mouth, drinking in the voluptuous pleasure of his memories. (….) When he was alone, he would pick up the glove, breathe it in, kiss it, thinking he still held her in his arms, his mouth on the nape of her neck."

In Émile Zola's 1884 La Joie de vivre (« The Joy of Living »), the sweetly-scented glove that sheathed the hands of aristocrats has ceased to be a prophylactic adornment to become a fragment of the desired body; indeed, it seems to be desired in itself… J.K. Huysmans' A Rebours, which dedicates a whole chapter to the art of perfumery as olfactory fetishism practiced by his decadent anti-hero Des Esseintes, would be published the same year. Within its visionary pages, perfumery wrenches itself free from the representation of nature to evoke man-made environments in unheard-of blends…

The leather note, of course, is one such artificial scent, a hybrid of "flower and flesh" created by industry. It is strangely redolent of the human skin which leather approaches, both by its texture and by its proximity to the body of the wearer whose shape it retains…
Can it possibly be a coincidence, then, that leather scents and leather fetishism are strictly contemporary, born in the same decade of the late 19th century?
Check the dates: quinolines, which lend their characteristic smoky-tarry notes to most leather perfumes, were synthesized around 1880. The first recorded Cuir de Russie was composed by Aimé Guerlain in 1875; Eugène Rimmel launched his the following year.

Now, it was precisely in 1876 that French psychiatrist Alfred Binet coined the term "fetishism"; the leather fetish itself is studied in Austrian sexologist Richard von Krafft-Ebing's Psychopathia Sexualis (1886).
Fetishism in general and leather fetishism in particular had of course existed before they were identified as such: the prolific French libertine author Restif de la Bretonne (1734-1806), for instance, was a famous shoe sniffer. But it was only when the study of sexuality became the province of psychiatrists that an attempt to understand "perversions" gave rise to their classification. Up to then, people had sexual tastes; henceforth, they would have sexual identities.

Of course, scientists only reflected the changing perceptions and practices of Western societies. In a world where commodities were becoming increasingly available and diversified, the sex industry had followed suit by catering to "niche markets". From 1867 to 1864, the first kinky magazine, the sedately entitled The Englishwoman's Domestic Magazine, devoted its pages to the charms of corsets and high heels. Brothels offered specialized services, costumes and scenarios. In Sexual Selection in Man, British sexologist Havelock Ellis reports the case, in 1894, of a prostitute saying that "several of her clients desired the odor of new shoes in the room, and that she was accustomed to obtain the desired perfume by holding her shoes for a moment over the flame of a spirit lamp."

Thus, leather entered the vocabulary of perfumery as a dominant note, rather than as a material to be treated by perfume, at the precise period in history in which "trickle-down perversions" – to reprise the term coined by French historian Alain Corbin – pervaded the very bourgeoisie to whom Messieurs Guerlain and Rimmel sold their Cuir de Russie. The name may have referred to the Cossacks who rubbed their boots with birch, and certainly bore a virile, military or equestrian connation. But the scents themselves alluded to more private passions.




Pic: by Félicien Rops, "Pornokratès" (1878), itself a scent-inspired painting:
"I did this in four days in a small blue satin room, in an overheated apartment, full of smells, where opoponax and cyclamen gave me a fever salutary for production and even reproduction."
Courtesy Agoravox.fr

Denyse is the author of "Sex Game Book: a Cultural Dictionary of Sexuality" (Assouline, 2007)
Leather Series will continue, along with a couple of other exciting things besides...Stay tuned!