Bond no.9, the New York city downtown brand is about to spoil us with their latest releases that are destined to become cult items, as they exploit iconic images of America: Andy Warhol is the inspiration behind Andy Warhol Silver Factory and Saks is the luxury megastore behind the new scent Saks 5th Avenue, exclusively commissioned for its customers. The new scents will officially launch in the autumn (for Saks) and winter (for Silver Factory), but here is a little preview for our readers at Perfume Shrine.

Bond no.9 is bent on starting a series of Warhol collectibles of which Silver Factory will be the first one. On the bottle's surface there is a graphic image inspired by one of the pop artist's most recognizable icons: a boldly re-coloured rendition of the Campbell's Soup Can, as created by Warhol in a series of his Campbell Soup Can silkscreen paintings in 1965 (apparently he also ate the soups!). Only now, the bottle takes the dissonant colours of turquoise and purple with a silver lining all around.
As Warhol once said "Another way to take up more space is with perfume. I really love wearing perfume." (and to note, he requested to be buried with a bottle of Beautiful).
It seems though that people at the Andy Warhol foundation are also friendly to perfume, as Michael Hermann, director of licensing at The Andy Warhol Foundation said: "Working with Bond No. 9 represents a unique, unexpected, and exciting opportunity to introduce Warhol to an ever-widening audience." The Andy Warhol Foundation for the Visual Arts, Inc. is a New York not-for-profit corporation established in 1987 which promotes the visual arts. In accordance with Andy Warhol's will, its mission is the advancement of the visual arts. The Foundation's objective is to foster innovative artistic expression and the creative process by encouraging and supporting cultural organizations that in turn, directly or indirectly, support artists and their work. The Foundation has given out over 1,700 cash grants totaling more than $70 million. You can read about it clicking here.

The Factory has its own history behind it, an illustrious, if not notorious, one. In operation from 1964–1968, Warhol's original studio, hangout, and club central, it was located in a indifferent looking building on East 47th Street, yet it acquired visual uniqueness with its aluminum-foil walls. Those evoked silver-backed mirrors ~emblems of the narcissism that suffused the times, perhaps. The Silver Factory served as a galvanizing forum for artists, silkscreeners, actors, filmmakers, debutants, activists, hustlers, and misfits, all of whom somehow contributed to the creativity. It was here that Warhol emerged as an avant garde filmmaker, pop art progenitor, and all-around superstar.
The scent Silver Factory , created by Aurelien Guichard from Givaudan, takes those elements and weaves them into a genderless mix, which per the advertorial
is a smooth, smoky, spicy blend of interlacing incense (a key scent of the '60s), wood resin, and syrupy, seductive amber. But just to complicate things, we gave it a heart of jasmine, iris, and violet—a scent that Warhol was especially fond of. These slightly dissonant florals combine to evoke a metallic effect—that of warmed-up, molten silver, And then, for the merest hint of coolness, we threw in a handful of cedarwood.

The official notes in detail are: Citrussy bergamot, zesty grapefruit,lavender, non-shrinking violet (Andy Warhol's favorite scent), intoxicating incense, sultry jasmine, metallic iris (supposedly smelling the way silver might smell) velvety-soft amber,syrupy wood resin, hinting of a raunchy breed of vanilla and cool but sensual cedarwood.

The Warhol fragrances will be offered as innovative 28% perfume concentrates ~in between eau de parfum and perfume extract at $230, for 3.4oz/100ml. Silver factory will be available only in the 3.4oz/100 ml flacon at Bond No. 9's four New York boutiques, at www.bondno9.com, at Saks Fifth Avenue nationwide and at saks.com.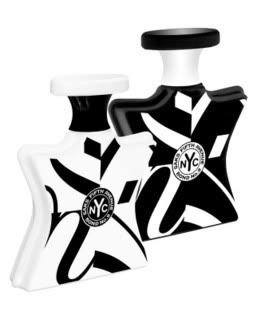 Regarding Saks 5th Avenue, the store has commissioned Bond no.9 perfumery to design specialty scents and there will be a feminine (For Her) as well as a masculine version (For Him). That way the iconic destination store located in the heart of Fifth Avenue, establishes itself through Bond no.9, as an ultra-sophisticated neighborhood unto itself.
According to Deborah Walters, Senior Vice President and General Merchandise Manager, Cosmetics and Fragrances, Saks Fifth Avenue:
"Saks Fifth Avenue is excited to be collaborating with Bond No. 9 on Saks Fifth Avenue for Him and Saks Fifth Avenue for Her. This will allow our customer across the country to experience the quintessential Saks Fifth Avenue scent. Everyone here at Saks is thrilled to be a part of such a unique fragrance collection of New York neighborhoods and feel it is such an honor to have two scents dedicated to our New York flagship."

Saks Fifth Avenue for Her signals the return of the classic gardenia eau de parfum, given a chic contemporary twist with the addition of sparkling jasmine, a little tuberose and vetiver, along with smooth vanilla. This all-white bouquet captures the cutting edge essence of 21st century Saks, but also the eclectic downtown spirit of NoHo-based Bond No. 9.
Saks Fifth Avenue for Him is an elegant aqua scent, containing an initial dash of Sicilian bergamot for coolness, followed by cardamom, chili, black pepper, incense, baased on amber, guiacwood and cedarwood for warmth.

The bottles depict a pattern that consists of quadrants containing refined, deconstructed, and then reconstructed versions of the signature stacked-script Saks logo that held sway from 1973-1997. The letters now serve as design elements containing Saks' "DNA" motif. (Visible, for instance, on the front of the Bond No. 9 flacon are parts of the "n" and "A" from "Avenue."). The slender bottle is the Bond No. 9 superstar flacon, its circular centerpiece logo inscribed with both SAKS FIFTH AVENUE and BOND NO. 9.

The official launch is set for September 1st for Her and October 1st for Him and will be sold exclusively at Saks Fifth Avenue stores nationwide and at Bond No. 9's four New York stores. Prices range for 3.4 oz/100ml at $185 and 1.7 oz/50ml at $125.



Pics from Bond no.9