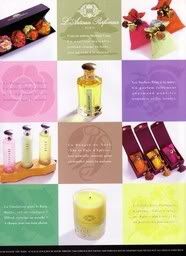 Although the disappointment to the confirmation (by a person selling L'artisan scents) of the long standing rumour that Dzing! was about to be phased out is palpable, L'artisan is not without hopeful news for the upcoming season.

Apart from the recent launch of L'Eté en douce (=summer creeps up on you)which will be joining the permanent collection and is a re-issue of the now defunct Extrait de Songe, a light summery wonder of lime-tree, hay and musks, there are other exciting news as well.

According to Osmoz.com, October will see the new Vintage Millessime scent (after Fleur d'Oranger 2005 and Fleur de Narcisse 2006) which will be based on Iris and called Iris Pallida 2007. The floral woodsy scent is being developped by perfumer Anne Flipo and the raw material is none other than the very expensive Tuscan Iris harvest. Expect it to hit the astronomical prices of the previous Harvest offerings and be encased in an equally fetching wooden box like a rare vintage wine.

There is also a very innovative spraying method that will make us see things under a new prism come autumn, it seems:

In September, the brand will also be launching a whole new way to spray, christened 'Chez Moi' (see photo). A fabulously designed, high-tech objet that reacts to the stroke of your finger and works with fragrance beads. A high-speed, healthy system that uses micronization to create almost invisible, 15 to 50-micron particles. Diffuser €180; beads: €15 each.


Let's see, then!

Next post will be about a new trend in perfumery, making waves as we speak.
Pic courtesy of parfumdepub