Trussardi launched Bianco, a limited edition fragrance for women by well-known nose Alberto Morillas, last summer in Europe but I only got to try it recently.

"Bianco": italian for white... And oh, how greek the colour white seems to me, nevertheless.
In a land of hot rock and azure sea like no other, white is the emblem of the Aegean houses scattered on the slopes of bare islands, asbestos on the outside, human "fire" burning in the inside.
One island in particular will always remain in my memory as the quintessential white place: Santorini or Thera, as it is also called; the island of legend of Atlantis and reality, intermingled in volcanic eruptions producing black sand, little wineries and archaological digs like no other place on earth.
If you want to feast your eye on white, on the pure kind that reflects the light scorching your retinas, burning your skin and filling your soul with the longing of an ancient whisper flying in the wind, look no further. As the sun dips down in breathtaking beauty tourists from all over the world clap their hands in awe, sitting on cool verandas etched on the edge of the deepest existing caldera on the planet, sipping long drinks in a langorous mood fit for such a slow-paced existence, white linen clothes breezing in the wind.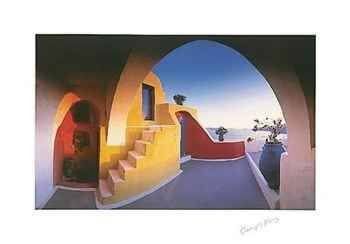 If you do want to see it immortalised in film, go rent Lara Croft Tomb Raider 2: Cradle of Life or for those more romantically inclined The Sisterhood of the Travelling Pants or Summer Lovers, all shot in part on the white island. Which might give you ideas...
And if you ever, just once in your lifetime, find yourself to be blessed to be able to set foot on this mystical place, invest in this small boutique hotel for VIPs that will remain indelible in your heart of hearts forever. (seriously, just click on the photos...then you tell me)

The new Trussardi perfume does not evoke such gloriousness however, despite its suitability to the sensibilities of a greek lazy summer spent on a small island. Bianco is said to evoke the feeling of Trussardi Skin, a claim that I am not inclined to dispute although the two do not share more than a passing similarity that can be attributed to their skin-like scent and the way they meld on the individual upon application. However Skin is more distinctive, while in Bianco the white musk of the base lingers to the exclusion of all else in the later dry down. The opening is lightly fruity and has a watery floral element that smoothes its way on the skin, to leave behind a hint of a peppery interlay of warmth and cool that soon exits.
The initial grapefruit note is nothing like the tart opening of cheeky upstarts like In love again or Baby Doll, nor the watery ambience of cool egyptian royal attendants of Un Jardin sur le Nil.Here it is temptered and smoothed out to the point that it loses its characteristic tang and bittery rind quality, a fact that could be lamentable. The lasting power of the mid notes is average and while the drydown does present a lingering impression, it is more evident on a blotter than on actual human skin. It is suited to summer in warm climates, but it would wither not blooming its full potential in winter, I'm afraid.
Notes: pink grapefruit, water lily, gooseberry, magnolia, white pepper, woods, amber and musk.

Trussardi Bianco comes in 30 and 75 ml Eau de Toilette, available at european Sephoras.

Pics of Imerovigli in Santorini courtesy of George Meis/eu.art.com