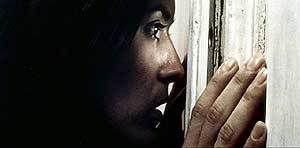 Today after last evening's festivities I did not have lots of time or energy to write a long review or an elaborate article. I did come by a new
reportage on Osmoz
though and thought you might find it interesting too, so I am in turn reporting it. After reading interviews of new fragrance designers and noses as varied as Marie Salamagne of Firmenich or Celline Ellena, daughter of Jean Claude, we come to the conclusion that they share one common feature: they are all young, upcoming,
the future of perfumery
. Reading about their way of thinking has a voyeristic thrill for me. Worth checking out
here
. You should click on the black and white pics that appear as a "banner" to read individual reviews.
If you want to see what the editors of Osmoz picked as best from the young perfumers' respective creations, you can jump right ahead
here
to see their selection of feminine and masculine new scents and take notes on what to try to smell next. Happy sniffing!
Pic comes from thriller film "Ils" courtesy of Athinorama